Family Office Services

A professional family office can provide its clients with a broad range of different services. On this page you find our family office services that can potentially be offered by a multi family office , or which a single family office can offer to its founding family.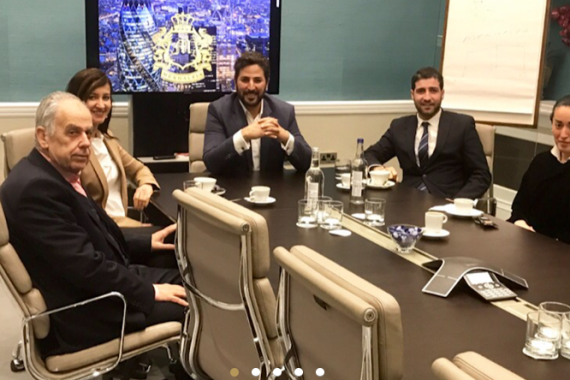 DOES EVERY FAMILY OFFICE OFFER THE SAME SERVICES?
Besides its independence two of the services a family office primarily provides are asset management or asset allocation only and consolidated reporting and monitoring of all the family's assets. Often a basic family office will only offer asset management. Such a family office is actually more an independent asset manager.
A genuine multi family office offers a broad range of services. Other services it provides include wealth and tax planning, trustee and corporate services, and support with real estate and family governance. There is also a type of family office that will not only support you on the financial side, but also with more administrative and personal issues, acting for example as a private secretary, making travel arrangements, or guiding your children. These kinds of services are also known as lifestyle management.
"EVERY FAMILY HAS UNIQUE NEEDS, VALUES AND PASSIONS"
WHICH FAMILY OFFICE SERVICES DO YOU NEED?
Did you already ask yourself this question? How do you decide which family office services will be provided by your single family office? How do you know exactly which family office services are provided by a multi family office?
The chance of you finding the most suitable multi family office in Europe by yourself, is fairly limited. It is therefore important first to analyse in advance which services you will need from a family office, and to check which services they are really able to provide. It is also important to check whether the family office offers those services to you in house or via external advisors, since it could have a considerable influence on the costs and quality of the services. It is exactly for that challenge that Mekhalfia Group advisory services are there.
OUR FAMILY OFFICE ADVISORY SERVICES
Please feel free to contact us with all your questions regarding the family office industry and the long list of services provided by it. We look forward to helping you find the family office services you need!
WEALTH MANAGEMENT & INVESTMENT SERVICES
■ Diagnosis of your overall financial situation
■ Defining the family's investment objectives
■ Establishing risk profile and investment horizon
■ Global asset allocation and investment strategy
■ Evaluating non registered securities
■ Administering and advising on banking relationships
■ Opening private bank accounts on behalf of the family
■ Discretionary and non discretionary mandates
MONITORING AND REPORTING SERVICES
■ Consolidated reporting of global bank accounts
■ Consolidation and reporting of all family assets including non bankable assets
■ Consolidated performance reporting
■ Risk adjusted performance reporting and risk attribution
■ Benchmark comparison
■ Fiscal annual performance
■ Risk reporting
■ Offering an online reporting system
FAMILY GOVERNANCE SERVICES
■ Support in putting family governance into place
■ Arrangements for succession within the company
■ Support with legacy protection
■ Set-up of family constitution
■ Organising family retreats and family assemblies
■ Supporting family council meetings
■ Mentoring family members
■ Individual education according to family members needs
■ Structuring assets and investments to aid tax planning
■ Advice on ownership, management and distribution of assets
■ Privacy and wealth protection structures
TAXES & INTERNATIONAL TAX PLANNING SERVICES
■ Double tax treaty planning for family owned companies and real estate
■ Local and international tax advice
■ Fiscal company migration
■ Preparation of tax returns including country of residence
■ UK tax advice
TRUSTEE AND CORPORATE SERVICES
■ Advice on issues of company incorporation and management in various jurisdictions
■ Managing family shareholdings
■ Selecting appropriate jurisdictions for trusts, foundations and other corporate structures
■ Setting up, administering and coordinating trusts, foundations and other corporate structures
■ Coordinating contacts with various local and foreign authorities
■ Selecting independent trustees and protectors
■ Controlling costs of external trust providers
■ Providing registered office facilities
■ Providing nominee services
CHARITY & PHILANTHROPY SERVICES
■ Philanthropic planning
■ Assistance and guidance in the establishment and administration of charitable foundations
■ Support in formulating a donor's giving strategy
■ Technical advice on and operational management of charities
■ Establishing grant making foundations and trusts
■ Preparing and presenting philanthropic initiatives
■ Organising fund raisers
■ Operating your own charitable structure by the family office for clients to participate in
INTERNATIONAL RELOCATION SERVICES
■ Analysing tax and other benefits of international relocation
■ Support with change of domicile
■ Support with obtaining international residence permits
■ Assistance in locating and applying to foreign schools
■ Coordinating contacts with all authorities
■ Support with Lump sum negotiations
■ Real estate advisory
■ Bespoke property search
■ Access to off market luxuy properties
■ Creating a property portfolio
■ Administrative property acquisition support
■ Support with sale of real estate
■ International real estate management
■ Organising security protection of private residences
■ Real estate financing/mortgages
AIRCRAFT, YACHTS, ART, HORSES, ETC.
■ Support with acquisition and sale of yachts, aircraft, classic cars, horses and other valuables
■ Aircraft and yacht financing read about Running a Super yacht
■ Refinancing aircraft, yachts and reviewing existing arrangements
■ Setting up tax efficient structures for yachts, aircraft, art and the like
■ Providing digital images and condition reports of artwork in an online system
■ Recording insurance details of assets
■ Organising restoration and storage of art
BUSINESS DEVELOPMENT, INVESTMENT BANKING & PRIVATE EQUITY
■ Merger & Acquisition advisory
■ Support with Initial Public Offerings
■ Structured finance
■ Partner matching
■ Support with raising equity finance
■ Private equity investments and structures
■ Evaluating a portfolio of insurances and implementing new insurance policies
■ Renegotiating and amending existing policies
■ Support with private placement life insurance as a wealth planning tool
■ Organising international health insurance
■ Support with kidnap & ransom insurance
■ Support with universal life insurance as an estate planning tool
■ International personal liability insurance
■ Insurance related to special assets, aircraft, yachts, art and more.
■ Support with estate planning
■ Support with drafting testaments & last wills
■ Marital contract planning
■ Support with prenuptial agreements
■ Retirement planning
Executorships
BUDGET & CASH FLOW MANAGEMENT SERVICES
■ Assessing actual wealth and current income, diagnosis of short and medium term liquidity requirements and long term goals
■ Cash flow projections
■ Private accounting
■ Cash management i.e; bill paying, cash flow, budgeting, etc.
■ Support with general legal issues
■ Document & record management
■ Accounting
■ Bookkeeping
■ Collection and filing of your administrative documents
■ Payment of invoices and taxes, and arranging tax compliance
■ Travel arrangements
■ Private secretary services
■ Concierge services
■ Hiring domestic staff nannies, chefs, chauffeurs, private tutors and other household staff
■ Managing household employees
■ Organising private events i.e; weddings, celebrations, birthday parties, etc.
■ Support with international schooling for your children
■ Purchasing, insuring and shipping assets
■ Access to an international network of peer families, to provide opportunities for co-investment and best practice sharing
■ Support in setting up a single family office